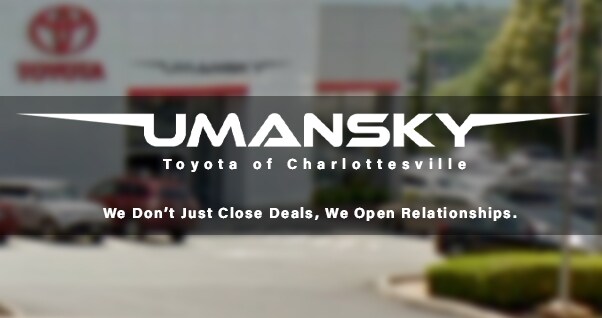 Why Buy at Umansky Toyota of Charlottesville?
Why Buy Here? Umansky Toyota of Charlottesville is committed to providing our Charlottesville, Lake Monticello, Ruckersville, Crozet and Waynesboro drivers with the ultimate dealership experience. From a comprehensive selection of new Toyota models and budget-friendly used cars to car loans and Toyota leases and friendly service, there's a variety of reasons why our customers continue to return to our conveniently located showroom.
Whether you're in the market for a new or pre-owned vehicle, or you simply need the assistance of our car service and maintenance team for the one you already enjoy driving, our team will provide you with high-quality customer service that you deserve.
From the moment you walk into our showroom to the moment you walk out the doors, the Umansky Toyota of Charlottesville team will provide you with the continued service you need to enjoy every mile. Are you interested in learning more about our offerings or rich-history? Consider joining us at 1357 Richmond Rd Charlottesville, Virginia, where we're a just a quick drive away from Lake Monticello, Ruckersville, Crozet and Waynesboro. We truly look forward to assisting you today and in the future with all of your automotive needs!
Umansky Toyota Used Car Warranty

Every used vehicle sold at Umansky Toyota of Charlottesville comes with a 10 year / 150,000 mile engine warranty, so that you can buy with peace of mind. See terms and exclusions below.


-                                                          -                                                                   -
Umansky Toyota's Community Involvement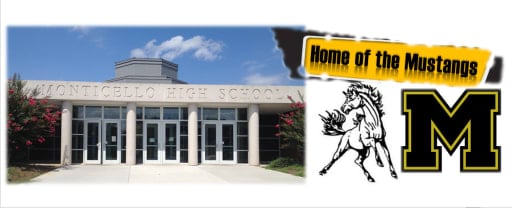 Monticello High School Athletics Booster Club (MHS ABC) is an independent non-profit organization that promotes and financially supports every Monticello High School sports team and student-athlete, assists teams with fundraising, builds school pride and advocates constructive, dedicated parental and community involvement.
MHS ABC raises money through memberships, fundraising events, concession sales, corporate sponsorships and generous donations to defer costs of athletics and to provide additional opportunities for our student-athletes.  This includes:
Managing and distributing funds for athletics projects not funded by ACPS
Promoting attendance and spirit at athletic events
Promoting awareness of the important relationship between success in athletics and academics
Advocating for Monticello High School athletics in the community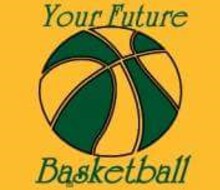 Your Future is more than basketball; it is an organization of people invested to provide a positive, structured and family environment to assist in developing student-athletes in the classroom, in their communities and on the basketball court.
David Fowler of Laurens, South Carolina founded what was formerly known as Your Future Inc. in 1998.  Fowler renamed and relocated the organization to the Shenandoah Valley (VA) in 2014 with the goal to continue to educate and assist student athletes of all ages as they advance in their athletic and academic careers.  Your Future has served many different areas over the years including; Laurens County, South Carolina, North Florida (Tallahassee), East Texas (Longview) & Central Virginia (Culpeper).  Your Future also serves as a pipeline in the college recruiting process and places its student athletes on the highest national stage, and against the strongest level of competition, and works with the student athletes and their families and with the college coaches to make the process go as smoothly as possible.  Your Future strives to involve the whole community in the development of its youth and provides many opportunities and events that do just that.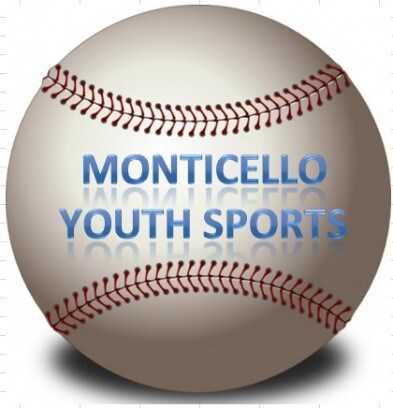 Monticello Youth Sports Club is dedicated to both individual player development as well as team development. MYSC provides a competitive sport experience without losing sight of the main reason kids play sports and to have fun!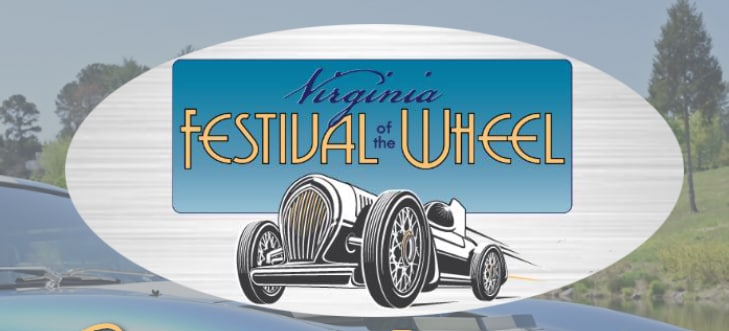 It is the mission of the Virginia Festival of the Wheel to present an impressive and unique display of classic and collector cars at the Boar's Head Resort in Charlottesville, Va. Our goal for this event is to raise funds to help support the UVA Cancer Center Patient Care Fund. We are blessed to have in our community one of the top 3% ranked Cancer Centers in the nation which treats thousands of patients each year. We aim to assist the UVA Cancer Center to help those cancer patients and their families who are facing financial hardship as well as coping with the emotional and physical trauma of fighting this dreaded disease.

Martha Jefferson is a not-for-profit community hospital serving the healthcare needs of individuals throughout Central Virginia. As our communities continue to grow and change, Martha Jefferson programs and treatment options expand and improve to meet these needs, providing healthcare to all, regardless of an ability to pay. Whether making a charitable gift to honor a special caregiver, remember a cherished friend, or support the quality of care and experience of caring that makes Martha Jefferson such a valued resource for this community.

Yellow Door was created to provide families hope, healing and togetherness while their child receives treatment for life-threatening illnesses.
When a child is diagnosed with cancer or requires an organ transplant, the entire family must shift away from the life they know in order to seek out the best treatments possible. This often means relocating the entire family for an extended period of time.
However, over 50% of families are unable to afford ANY type of long-term lodging away from home. When this happens, Yellow Door Foundation is there to help alleviate the emotional and financial burden by providing sanctuary lodging and family support for the duration of the family's stay in Charlottesville completely free of charge.
Terms: Limited Warranty term is for 10 years / 150,000 miles. The time and mileage limits of the term start on the In-Service date and zero miles. The coverage expires when the length of time or accumulated mileage of the term is reached, whichever occurs first.
Eligibility: Eligible Vehicles are defined as used Domestic and Asian makes. Used Vehicles are defined as vehicles with less than 120,000 miles on the vehicle, and were manufactured within the current or nine (9) prior model years.
Ineligible Vehicles: Acura NSX, Alfa Romeo, Audi, BMW, Cadillac V-Series, Chevrolet Express, Chinese& Indian domiciled companies importing, manufacturing, or assembling vehicles for distribution in the United States and or Canada, Corvette, Daewoo, Daihatsu, Dodge Ram SRT-10, Dodge Ram Van, Dodge Sprinter, Dodge Stealth, Dodge Viper, Eagle, Exotics-including but not limited to : Aston Martin, Bentley, Bugatti, Ferrari, Fisker, Lamborghini, Lotus, Maserati, Maybach, Mclaren, Panoz, Rolls Royce, Spyker and Tesla, Fiat, Ford E-Series, Ford F-150 (Cobra, Foose, Saleen, Rousch editions only), Ford F-450, Ford f-550, Ford GT, Ford Mustang-(Cobra, Foose, GT-H, GT-KR, Saleen, Rousch, Shelby editions only), GMC Savana, Honda FCX Clarity, Hummer, Isuzu, Jaguar, Kit Cars, Lancia, Land/Range Rover, Lexus F-Series, Lexus LF-1, LF-A, Mercedes Benz, Mini, Mitsubishi 3000, GT-VR4, Nissan GT-R, Peugeot, Plymouth, Porsche, Renault, Saab, VW-Phaeton model only.
General Exclusion: Commercial or Business use vehicle, V10, V12, CNG, Hybrid, Electric, Hydrogen/ fuel cell, gray market vehicles and vehicles over a 1 ton rating. Vehicles that have a branded or salvaged title, total loss or a rebuilt or have alterations not authorized/ specified by the manufacturer. Any vehicle where the odometer is not functioning or has been tampered with is not eligible for coverage. Vehicles not certified for sale in the United States or Canada, step van, high cube or box body, cab & chassis or has right hand steering are not eligible.