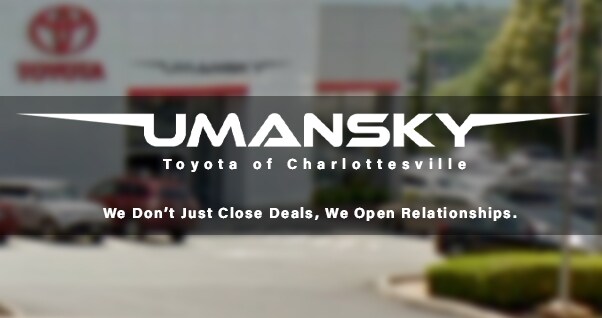 Why Buy at Umansky Toyota of Charlottesville?
Why Buy Here? Umansky Toyota of Charlottesville is committed to providing our Charlottesville, Lake Monticello, Ruckersville, Crozet and Waynesboro drivers with the ultimate dealership experience. From a comprehensive selection of new Toyota models and budget-friendly used cars to car loans and Toyota leases and friendly service, there's a variety of reasons why our customers continue to return to our conveniently located showroom.
Whether you're in the market for a new or pre-owned vehicle, or you simply need the assistance of our car service and maintenance team for the one you already enjoy driving, our team will provide you with high-quality customer service that you deserve.
From the moment you walk into our showroom to the moment you walk out the doors, the Umansky Toyota of Charlottesville team will provide you with the continued service you need to enjoy every mile. Are you interested in learning more about our offerings or rich-history? Consider joining us at 1357 Richmond Rd Charlottesville, Virginia, where we're a just a quick drive away from Lake Monticello, Ruckersville, Crozet and Waynesboro. We truly look forward to assisting you today and in the future with all of your automotive needs!
Umansky Toyota Used Car Warranty

Every used vehicle sold at Umansky Toyota of Charlottesville comes with a 10 year / 150,000 mile engine warranty, so that you can buy with peace of mind. See terms and exclusions below.


Terms: Limited Warranty term is for 10 years / 150,000 miles. The time and mileage limits of the term start on the In-Service date and zero miles. The coverage expires when the length of time or accumulated mileage of the term is reached, whichever occurs first.
Eligibility: Eligible Vehicles are defined as used Domestic and Asian makes. Used Vehicles are defined as vehicles with less than 120,000 miles on the vehicle, and were manufactured within the current or nine (9) prior model years.
Ineligible Vehicles: Acura NSX, Alfa Romeo, Audi, BMW, Cadillac V-Series, Chevrolet Express, Chinese& Indian domiciled companies importing, manufacturing, or assembling vehicles for distribution in the United States and or Canada, Corvette, Daewoo, Daihatsu, Dodge Ram SRT-10, Dodge Ram Van, Dodge Sprinter, Dodge Stealth, Dodge Viper, Eagle, Exotics-including but not limited to : Aston Martin, Bentley, Bugatti, Ferrari, Fisker, Lamborghini, Lotus, Maserati, Maybach, Mclaren, Panoz, Rolls Royce, Spyker and Tesla, Fiat, Ford E-Series, Ford F-150 (Cobra, Foose, Saleen, Rousch editions only), Ford F-450, Ford f-550, Ford GT, Ford Mustang-(Cobra, Foose, GT-H, GT-KR, Saleen, Rousch, Shelby editions only), GMC Savana, Honda FCX Clarity, Hummer, Isuzu, Jaguar, Kit Cars, Lancia, Land/Range Rover, Lexus F-Series, Lexus LF-1, LF-A, Mercedes Benz, Mini, Mitsubishi 3000, GT-VR4, Nissan GT-R, Peugeot, Plymouth, Porsche, Renault, Saab, VW-Phaeton model only.
General Exclusion: Commercial or Business use vehicle, V10, V12, CNG, Hybrid, Electric, Hydrogen/ fuel cell, gray market vehicles and vehicles over a 1 ton rating. Vehicles that have a branded or salvaged title, total loss or a rebuilt or have alterations not authorized/ specified by the manufacturer. Any vehicle where the odometer is not functioning or has been tampered with is not eligible for coverage. Vehicles not certified for sale in the United States or Canada, step van, high cube or box body, cab & chassis or has right hand steering are not eligible.